Bitcoin Adoption Rates Are Growing Rapidly in These 5 Countries
Worldwide adoption of Bitcoin started with countries resisting the control of their centralized fiat currencies. Nigeria, El Salvador, Ghana, and more have witnessed a growing trend for "How to buy Bitcoin" Google searches for over five years now despite some hiccups.
Bitcoin, the largest cryptocurrency, has had an exciting journey since its inception. Starting from being valued at less than $1, it reached an all-time high of $69,000 in 2021. However, in the bear market that followed, it slipped back to trading for $17,000. Over the years, Bitcoin has weathered several of these crypto winters. It has even been proclaimed "dead" more than 400 times. 
Google search trends still strongly correlate with BTC price movements. The graph below shows the past five years for BTC in terms of price vs. Google searches.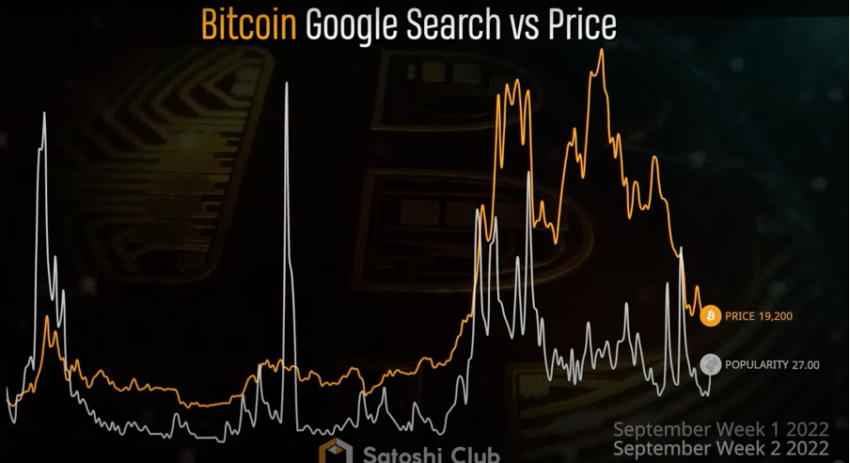 The popularity and hype of Bitcoin throughout its different bull cycles have created stirs in regions across the globe. This can be seen with the "how to buy Bitcoin" search query, which not so surprisingly skyrocketed in 2017 and at the end of 2020.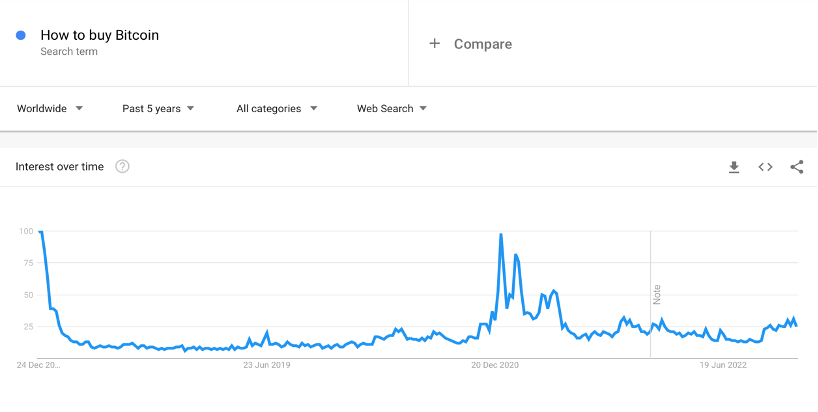 The metric here peaked (a value of 100 is the peak popularity for the term) in the 2017-18 period. However, it has declined since. This is due to various factors, including exchange collapses and stricter regulations.
Here's a breakdown of the countries that stood out on this list, compiled by BeInCrypto in descending order. 
Nigeria
In Nigeria, the 'How to Buy Bitcoin' search query has remained fairly high since 2017. Currently, the metric stands at 45. Interest peaked around mid-2020, as is evident in the plot below: 

Why is that the case? Why does Nigeria rank #1 here when compared to other countries? 
The adoption of crypto in Nigeria is developing at an exponential pace. The country currently has greater than 50% month-to-month active adult crypto investors. Numerous citizens favor storing their money in virtual currencies over fiat because of the constant devaluation of the Naira.
It is estimated that one-third of Nigerians have already invested in Bitcoin.
Nigeria's crypto adoption, similar to most other developing international locations, is fuelled by inadequate financial services. To satisfy this inadequacy, Nigerians started using crypto as an opportunity to save and protect those savings.
In 2021, the Nigerian government introduced the eNaira, a central bank digital currency (CBDC). Nigerians have been reluctant to adopt the eNaira because of its centralized control. This shows a great deal of distrust in the powers that control the money supply.
BeInCrypto reached out to sources in Nigeria to comment on the rise of crypto adoption. A Twitter account named 'Nigeria Bitcoin Community' gave us their opinion:
"BTC adoption is high in Nigeria because governments don't help in any way at all, and the young are looking for any way possible to make money for themselves, and crypto seems to be the best alternative to many." 
It further added: 
"Even though crypto adoption is growing rapidly in Nigeria, we have some barriers here Government restricted all banks in Nigeria from being a merchant to any crypto exchange, which means no one in Nigeria can buy bitcoin or any cryptocurrency through his bank card or directly from bank We use the P2P system here." 
El Salvador
In the second half of 2021, El Salvador became the first country in the world to adopt bitcoin as a legal tender (though this is often disputed as Japan passed a similar act in 2017). The start of the road was bumpy. The country had to deal with various technical problems and a slump in Bitcoin prices at the same time.

One year in, most major franchise chains in the capital accept Bitcoin via smartphone wallets. In addition, the Salvadorian government introduced a network of 200 Chivo Bitcoin ATMs to familiarize consumers with BTC.
Government officials in El Salvador claim that the introduction of Bitcoin will increase the affordability of services, expand payment options, and increase financial innovation.
Facing some problems
Success could encourage other countries to adopt cryptocurrencies. However, as seen from the graph, interest in Bitcoin has been sinking, especially for many skeptical El Salvadoran vendors.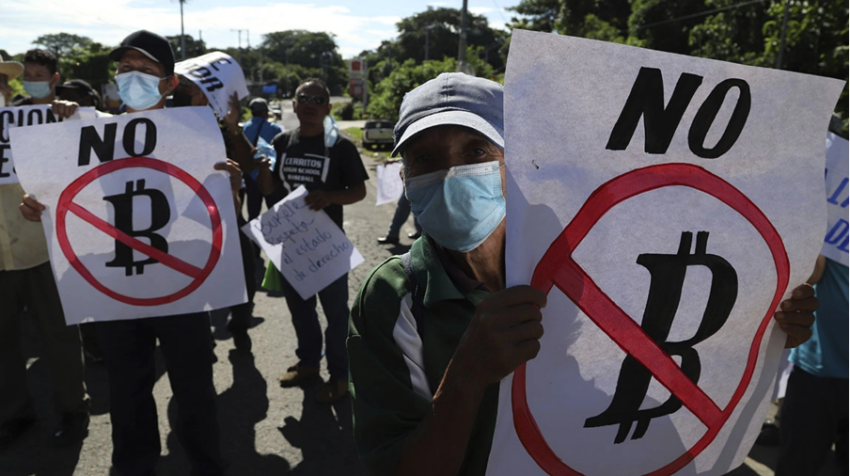 BeInCrypto had reached out to a spokesperson of La Union, a municipality organization of  La Unión Department of El Salvador. When asked about any positives regarding the adoption of Bitcoin as legal tender in the region, we received a single-sentence reply that read: 
"Nothing positive has happened."
The President, Nayib Bukele, continues to take significant steps to bolster Bitcoin adoption.
Beyond El Salvador, Bitcoin, cryptocurrency, and stablecoins have very high adoption rates in countries like Colombia and Argentina. Latin America is certainly no stranger to periods of high inflation or monetary repression, leading to the general public's affinity for cryptocurrencies.
Bitcoin is believed to stand the test of inflation since its supply is finite. There will only be 21 million Bitcoins ever created. Thus, when the demand for Bitcoin increases, its value also increases. The limited nature of the currency prevents inflation and can potentially help to reduce global poverty.
Slovenia
Let's shift our focus now to central Europe. Slovenia, in particular, is a forerunner in crypto adoption.
The country is quickly turning into central Europe's cryptocurrency and blockchain capital. With such fast adoption rates, Slovenia's government is experimenting with new legislation that will allow it to properly evaluate crypto holdings and transactions of individuals and businesses for taxation purposes. 

In Q1 22, the Financial Administration of the Republic of Slovenia (FURS) proposed a tax rate of 10% to be levied for crypto-to-fiat swaps. The same tax rates will also apply to any purchases made with cryptocurrencies. How much taxation might affect the nation's crypto future is yet to be seen. For now, the country's capital, Ljubljana, has become a paradise for crypto enthusiasts. 
Locals can forget their fiat currency and traditional payment methods like credit cards at home and live a typical day with their crypto holdings. The city has 137 businesses and 584 locations accepting cryptocurrencies as payment methods. Slovenia has more physical sites that accept crypto payment methods than even the entirety of the United States.
BeInCrypto reached out to numerous representatives operating in the country, however, we haven't yet received any responses. 
Ghana
Like in other African countries, Ghana has been a victim of rising inflation and debt. Revenue earned by the government used to offset pending debts has risen to 70%: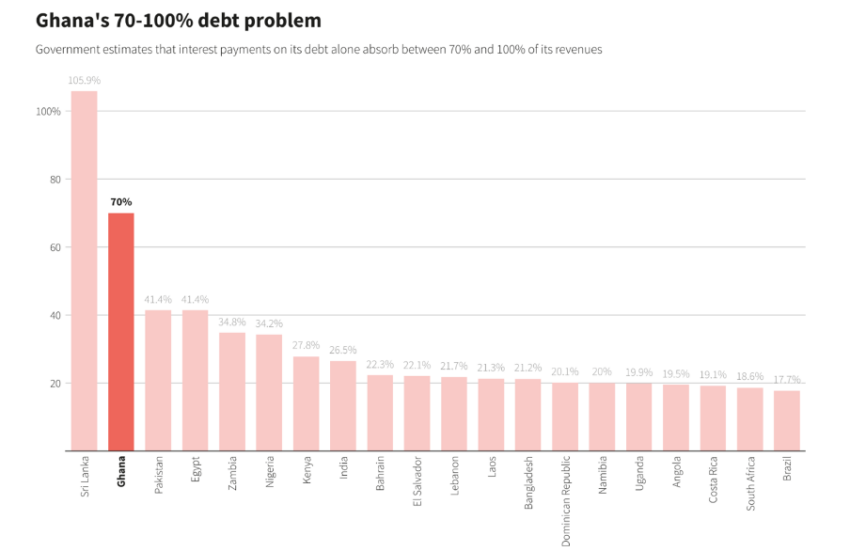 To offset the suffering, locals in Ghana have lent support to Bitcoin despite warnings from the country's regulators. 
Google trends indicate that Ghana is among the top 5 international locations to run queries on Bitcoin.
In its State of Crypto: Africa report, Arcane Research showed an organic and growing interest in cryptocurrency. Bitcoin ownership in Ghana is said to be over 900,000, which is more than 3% of the country's total population.

Meanwhile, Ghana also ranks exceptionally high in Bitcoin mining interest. 
Paxful, a cryptocurrency exchange, even opened a Bitcoin Technology Center in Ghana, as shared in a Dec. 21 tweet: 
Georgia
Georgia has always been a trailblazer in many facets of Bitcoin adoption. Like most other top crypto-adopting countries, Georgia had significant help from the government. Five years back, it became the first country to use blockchain to register property transactions. 
Over the period leading up to 2022, the government took several initiatives to bring cryptocurrency into everyday financial transactions organically. In the past year, Georgia has hosted the first international web3 conference led by DeGameFi and announced efforts to legalize cryptocurrency by adopting EU standards. It even collaborated with several crypto exchanges, such as Binance, to encourage more institutional adoption of blockchain.
While the government is making steady efforts, the general public continues to adopt crypto mostly through P2P transactions and a network of Bitcoin ATMs.
Speaking to BeInCrypto, a local news agency asserted that the country was already in the works to adopt Bitcoin across the region. 

India
India is easily one of the biggest markets for Bitcoin, especially given the country's massive population. Interest in Bitcoin can be seen in the plot below:

Three main factors fuel Bitcoin adoption in India. First, there is a growing cultural movement driven by crypto meet-ups in major cities with varied audiences ranging from prominent global CEOs to teenagers. This surge of interest from such a diverse audience encourages more people to join the movement and participate in the industry in varying capacities. 
The large influx of capital in web3 and blockchain projects is the second-factor fueling adoption. In 2015 and 2016, a $1 million grant for founders building crypto companies was considered an enormous feat. Today, founders can easily raise $2-3 million in just pre-seed rounds. 
The third factor propelling BTC, and blockchain adoption at a government level, is a heavy-duty focus on building state and central government projects like land registration, blood banks,  public distribution systems (PDS), and remote voting chains implemented on the blockchain. Although these projects do not have a tokenized approach, it's still a major step toward broader blockchain adoption.
However, many regulators and higher-ups are still cautious when it comes to Bitcoin and crypto adoption due to the heavy influx of scams and fraud in the space.
Closing thoughts
Bitcoin can be a crucial tool in aiding locals struggling with their respective economies and centralized authorities. 
Since its advent in 2009, Bitcoin has grown immensely in price. However, it still sees little use as a means of payment. One reason for this is Bitcoin's capacity and constraints on processing transactions. These constraints have hindered its scalability compared to centralized public giants structures such as Visa or MasterCard.
Although with the rise in the second layer Lightning Network, Bitcoin users can more easily make instant transactions for a low fee.
One of the companies incorporating the Lightning Network is Strike. Per a report shared with BeInCrypto, Strike even received an additional $80M in funding to bolster Bitcoin payments for merchants. 
BeInCrypto also reached out to Strike CEO Jack Mallers for comment but hasn't received a response yet. 
Disclaimer
All the information contained on our website is published in good faith and for general information purposes only. Any action the reader takes upon the information found on our website is strictly at their own risk.
We only source and collect valueable knowledge and information and do display it for public good (under the freedom of information act)
All image + text copyrights belong to their respectful owner, we do NOT claim any rights over those.
US Treasury Sanctions Hit Russian Arms Dealer's Crypto Wallets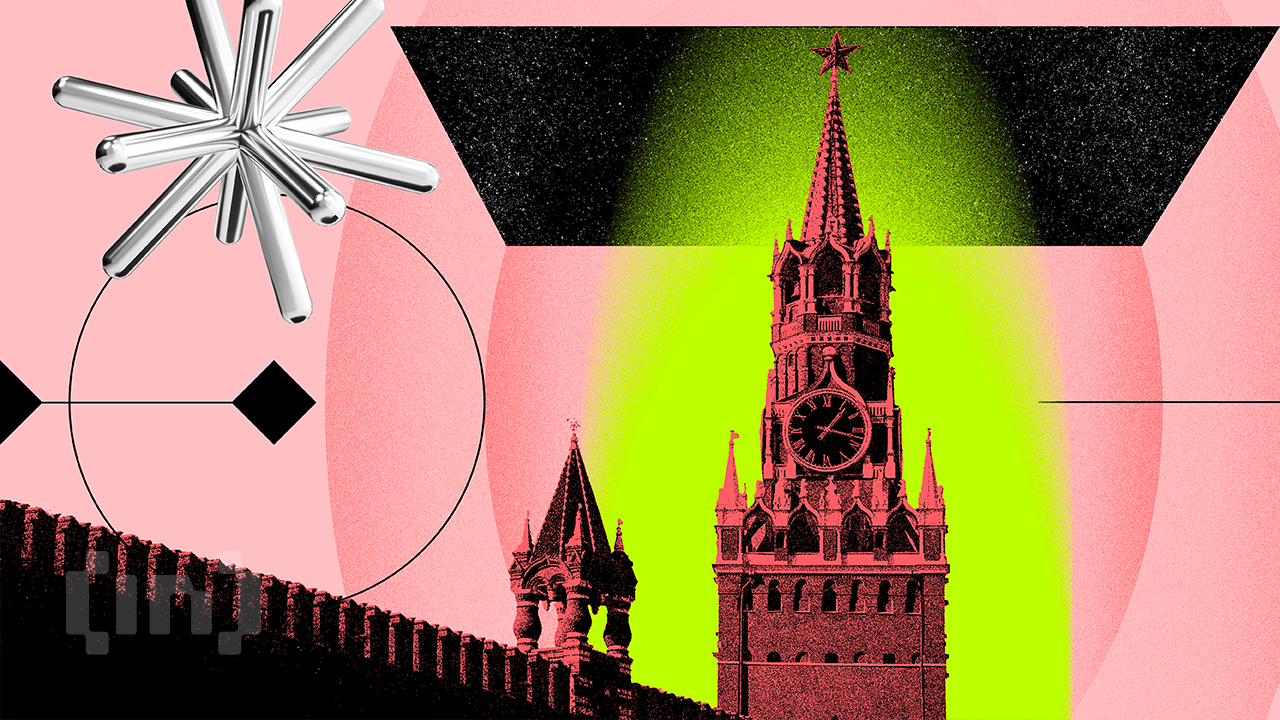 The U.S. Department of the Treasury's Office of Foreign Assets Control (OFAC) has imposed full blocking sanctions on 22 individuals and entities across several countries, including Russia and Cyprus, as part of its sanctions evasion network that supports Russia's military-industrial complex.
The sanctions were imposed under Executive Order 14024 and are part of the U.S.'s strategy to target sanctions evasion globally, close key channels, and limit Russia's access to revenue for its war in Ukraine.
US Treasury Goes After Russian Arms Dealer's Cryptos
The U.S. Treasury's sanctions were imposed by the Russian Elites, Proxies, and Oligarchs (REPO) Task Force, a multilateral effort to identify, freeze, and seize assets of sanctioned Russians worldwide. This task force leverages information from international REPO partners and key data from Treasury's Financial Crimes Enforcement Network (FinCEN) to share information, track Russian assets, and sever Russian proxies from the international financial system.
The REPO Task Force aims to maximize the impact of multilateral sanctions while preventing opportunities for Russia to evade or circumvent U.S. and partner sanctions.
The primary target of the sanctions is a Russian sanctions evasion network led by Russia and Cyprus-based arms dealer Igor Zimenkov and his son Jonatan Zimenkov. The Zimenkov network has been involved in projects related to Russia's defense capabilities, including supplying a Russian company with high-tech devices after Russia's full-scale invasion of Ukraine. They have also supported sanctioned state-owned Russian defense entities, Rosoboroneksport OAO and State Corporation Rostec, which are critical components of Russia's military-industrial complex.
Igor and Jonatan Zimenkov have worked closely together to enable Russian defense sales to third-party governments and have engaged directly with Rosoboroneksport's potential clients to facilitate sales of Russian defense material. Igor Zimenkov has also supported the Belarusian military-industrial complex by enabling the sales efforts of State Owned Foreign Trade Unitary Enterprise Belspetsvneshtechnika in Latin America.
Today, Igor Zimenkov was designated for operating in the defense and related materiel sector of the Russian Federation economy, while Jonatan Zimenkov was designated for having materially assisted, sponsored, or provided financial, material, or technological support for Igor Zimenkov, Rosoboroneksport, and other sanctioned entities.
The Zimenkov network used front companies to funnel money and maintain a lawful appearance. Singapore-based Zimenkov network shell company Asia Trading & Construction PTE Limited and its director, Serena Bee Lin Ng, have sold helicopters to clients in Africa on behalf of the Zimenkov network. Additionally, Cyprus-based Zimenkov network shell company Lobster Management Limited and its director, Mikhail Petrov, have facilitated sanctions evasion by providing support to sanctioned entities.
The Treasury's OFAC continues to work with its international partners to coordinate information sharing and enforcement and to travel the world in pursuit of sanctions evasion. The sanctions imposed today are a clear signal to Russia and its military-industrial complex that the U.S. and its partners are committed to tightening sanctions enforcement and preventing the evasion of international sanctions.
Disclaimer
BeInCrypto has reached out to company or individual involved in the story to get an official statement about the recent developments, but it has yet to hear back.
We only source and collect valueable knowledge and information and do display it for public good (under the freedom of information act)
All image + text copyrights belong to their respectful owner, we do NOT claim any rights over those.
Digital Wallet Growth Will Enable More Closed-Loop Transactions
Crypto and fintech investment firm Ark Invest has made bold predictions about digital wallets, estimating that more than half the world will soon be using at least one.
In its Jan. 31 'Big Ideas 2023' research report, Ark Invest revealed that digital wallet global population penetration is currently 40%. This equates to around 3.2 billion users, the firm added.
However, the research suggests that the number of online wallet users will increase at an annual rate of 8%. The firm predicted that this will result in a global population penetration of 65% by 2030:
"Having onboarded billions of consumers and millions of merchants, digital wallets could transform the economics associated with traditional payment transactions, saving them nearly $50 billion in costs."
It also noted that digital wallets were gaining market share in online and offline transactions. Cash is definitely in decline, accelerated by government initiatives to go digital, as recently seen in Nigeria.

Digital Wallet Growth to Continue
Ark reported that digital wallets were scaling faster than accounts at traditional financial institutions. Furthermore, U.S. digital wallet adoption rebounded in 2022, surpassing previous highs following a COVID-induced dip.
The firm estimates that U.S. digital wallet users will increase by 7% annually during the next eight years. This will be a growth of around 160 million in 2022 to more than 260 million by the end of the decade.

Furthermore, online wallets are enabling "closed-loop" ecosystems. This is where consumers and merchants can transact directly, cutting out the middleman. 
"Digital wallets are onboarding millions of merchants to platforms that enable direct consumer-merchant transactions that disintermediate traditional financial institutions," it noted.
In this closed-loop environment, wallet providers capture more value per transaction, enabling savings to be shared with merchants and consumers.

Additionally, Ark noted that closed-loop transactions could boost the margin structure of wallet providers.
It used Block Inc. (formerly Square) as an example, stating that it paid around 60% of customer transaction fees to third parties in 2022. The fees were paid for interchange, assessment, processing, and bank settlement fees. Block's net take rate could more than double if customers transacted directly with merchants.

Closed Loop Transactions Could Top 50%
Finally, Ark predicted that these closed-loop transactions could account for over 50% of digital payments by 2030.
It used China as an example where wallets and merchants are largely internal or domestic only.

In conclusion, digital wallet growth is set to continue. Cutting out the intermediary which they facilitate is beneficial to both the consumer and merchant.
Disclaimer
BeInCrypto has reached out to company or individual involved in the story to get an official statement about the recent developments, but it has yet to hear back.
We only source and collect valueable knowledge and information and do display it for public good (under the freedom of information act)
All image + text copyrights belong to their respectful owner, we do NOT claim any rights over those.
Strike Launches Lightning Remittances in the Philippines
Bitcoin fintech giant Strike rolled out its Lightning Network money transfer service Send Globally in the Philippines, a $35 billion remittance market.
Send Globally launched in the Southeast Asian country on Jan. 31, 2023, enabling businesses and tourists to receive international money transfers in the Philippine peso. The country receives $35 billion in remittances globally.
How Strike's Send Globally Service Works
"Remittances are a broken system and Strike delivers an incredibly empowering experience for people to send money around the world in nearly an instant," Strike CEO Jack Mallers said.
According to a press release, Strike's remittance service converts a sender's fiat into Bitcoin and sends the Bitcoin to a Strike partner in the destination country using the Lightning Network, which in the case of the Philippines, is Pouch.ph. Pouch.ph then converts the Bitcoin to the recipient's fiat currency and credits their bank or mobile money account, with Strike shielding both parties from the tax implications of handling Bitcoin directly.
Bitcoin's Lightning Network is a layer-two solution on the Bitcoin blockchain that allows micropayments between nodes over a payment channel. Unlike traditional payment networks, Lightning's low fees enable almost zero-cost remittances.
Recently, Mallers announced a trial to bring Bitcoin Lightning Network payments to retailers through a partnership with Fiserv's point-of-sale solution Clover Commerce. The trial allows any application with Lightning capability to pay Bitcoin for goods and services at Clover merchants.
Philippine Smartphone and Internet Adoption Auger Well for Strike
Send Globally rolled out to Strike users in Ghana, Nigeria, and Kenya on Dec. 6, 2022, where it has reportedly gained rapid traction.
However, mainstream adoption in the Philippines will depend heavily on network effects, driven by smartphone and internet penetration.
According to Statista, the number of smartphone users will increase from 85 million in 2022 to 87 million by 2023. Additionally, forecasts suggest smartphone users will increase to 91.5 million in 2025, representing roughly 83% of the island nation's population.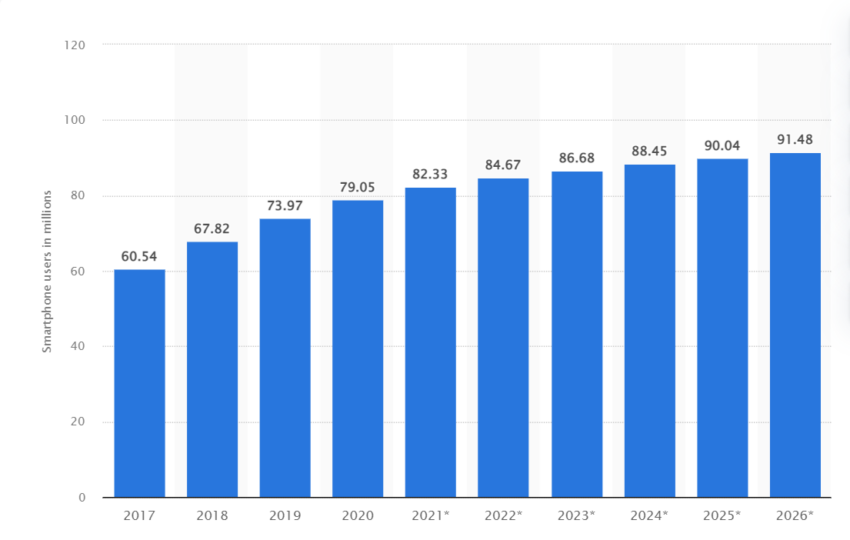 Additionally, Statista predicts that about three-quarters of the population will have internet access by the end of 2023. Growing internet access increases the chance of Strike's success, since it helped drive adoption of crypto game Axie Infinity.
For Be[In]Crypto's latest Bitcoin (BTC) analysis, click here.
Disclaimer
BeInCrypto has reached out to company or individual involved in the story to get an official statement about the recent developments, but it has yet to hear back.
We only source and collect valueable knowledge and information and do display it for public good (under the freedom of information act)
All image + text copyrights belong to their respectful owner, we do NOT claim any rights over those.